February 9, 2023
West Coast Womens Golf Association had 60 Ladies battling it out in a Solheim Cup format of Match Play at Tampa Palms!
A special thank you to Pat Rogers and her team of Bonnie Hess and Kat Schwendeman for hosting a fabulous tournament! All will agree was a great fun event!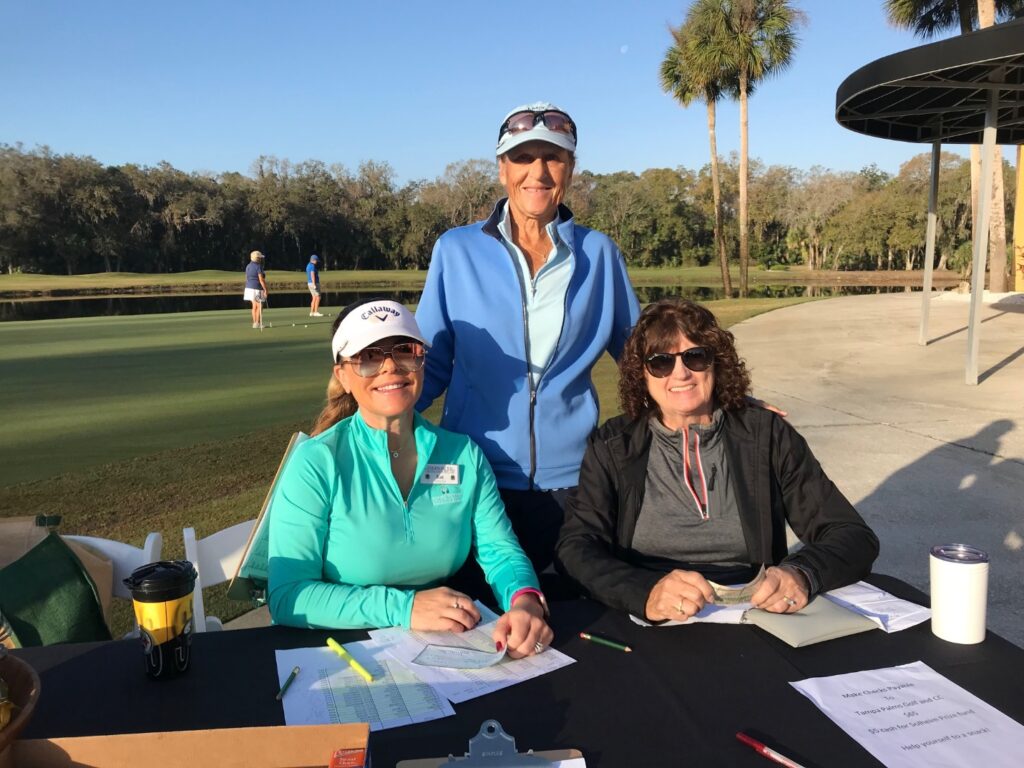 We split the field into the Red and Blue teams with even handicaps, giving strokes where appropriate. Players ranging from a 4 handicap to a 25 handicap competed on the front nine as a two person match play team followed by individual match play on the back nine.
Becky Miles was an energetic captain of the Blue Team and Leslie Roberts captained the Red Team.
We also had a few entertaining friends …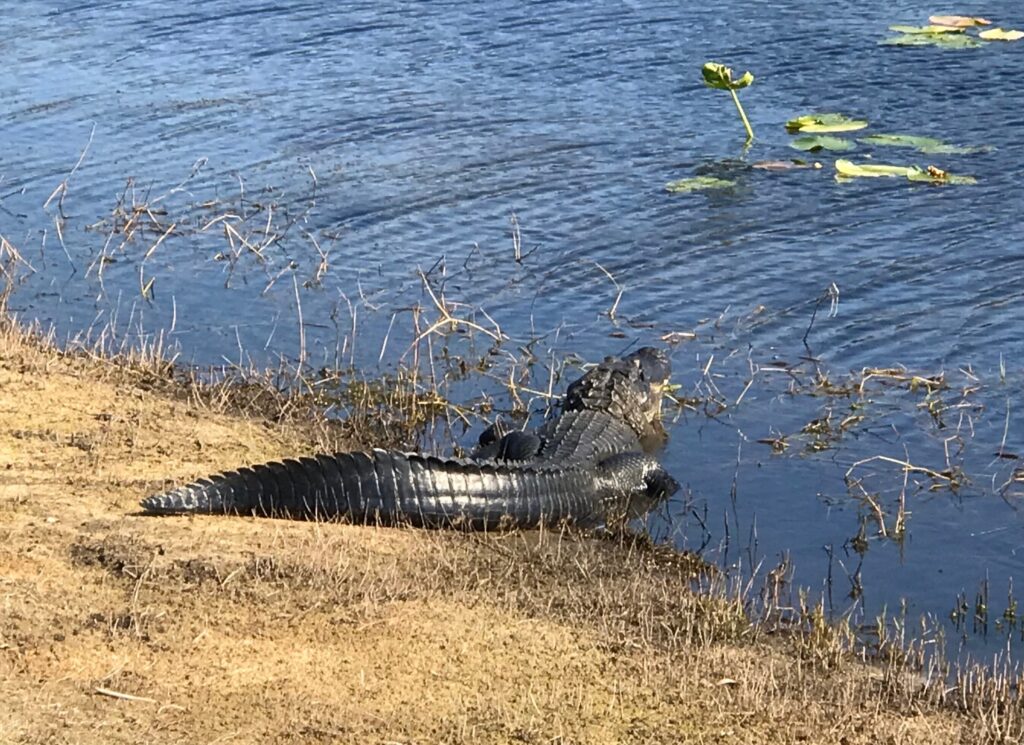 The Tampa Palms course was in beautiful condition and if you haven't played there, it isn't extremely long, but it requires shot making, with difficult pin placements, lots of bunkers and water, it is a very challenging course. Add to that Tampa Palms recently redid their greens. They rolled very smooth and fast, but wow – they were tough to hold!
Results are attached are by foursome – everyone played very well, the score was not far apart but the Red Team Won! 211 points to 194 for the Blue Team.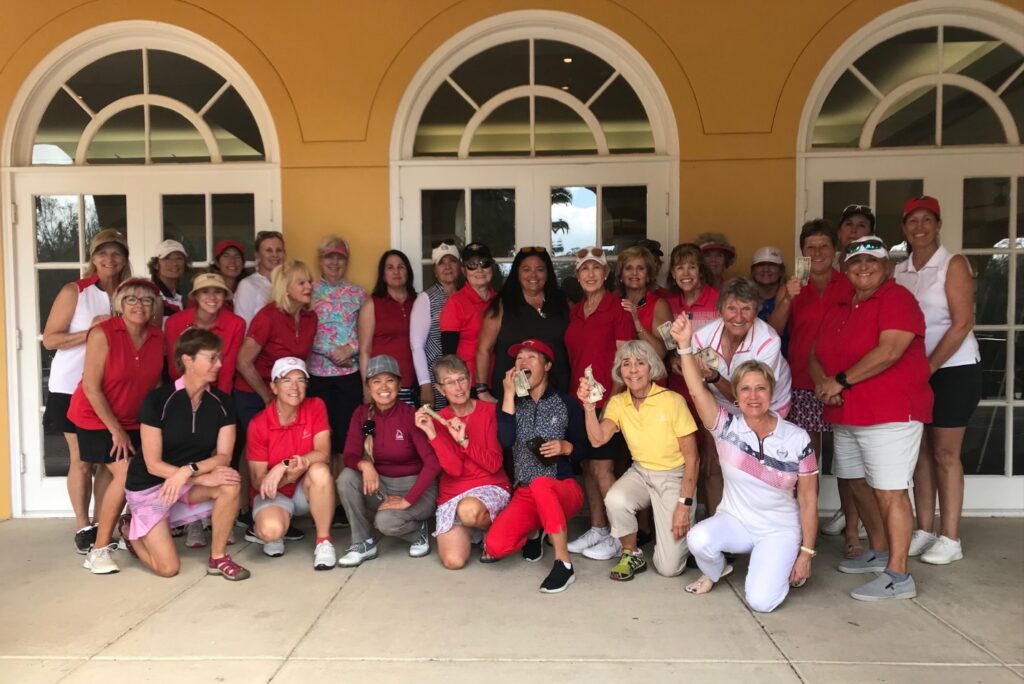 Red Team Players: Maggie Liu, Karen Lesch, Erika Fincher, Lisa Ramos, Connie Thompkins, Brenda Barley, Anne Stafford, Marla Flinn, Leslie Roberts, Linda Grasso, Kathy Conroy, Suzie McRae, Bridget Gruman, Nina Hatfield, Dianne Denuccio, Terry Moreno, Lisa Stilwell, Merci Madar, Cathy Tintera, Mary Ann Torchio, Barb Curry, Susan Dugan, Karen Moody, Kooky Lucas, Dianne Robert, Nola Raitz, Nan Habjan, Marilyn Connors, DeeDee Husted and Pat Lopez.
And Blue Team Captain Becky Miles graciously paid Red Team Captain Leslie Roberts the winnings!
A special thanks to the Head Golf Director Kevin Kinney who helped arrange the tournament; Chris Brode who helped with scoring as well as Hunter Henderson and Kate. We loved the greens super intendent Chad Quinet who challenged us with pin positions.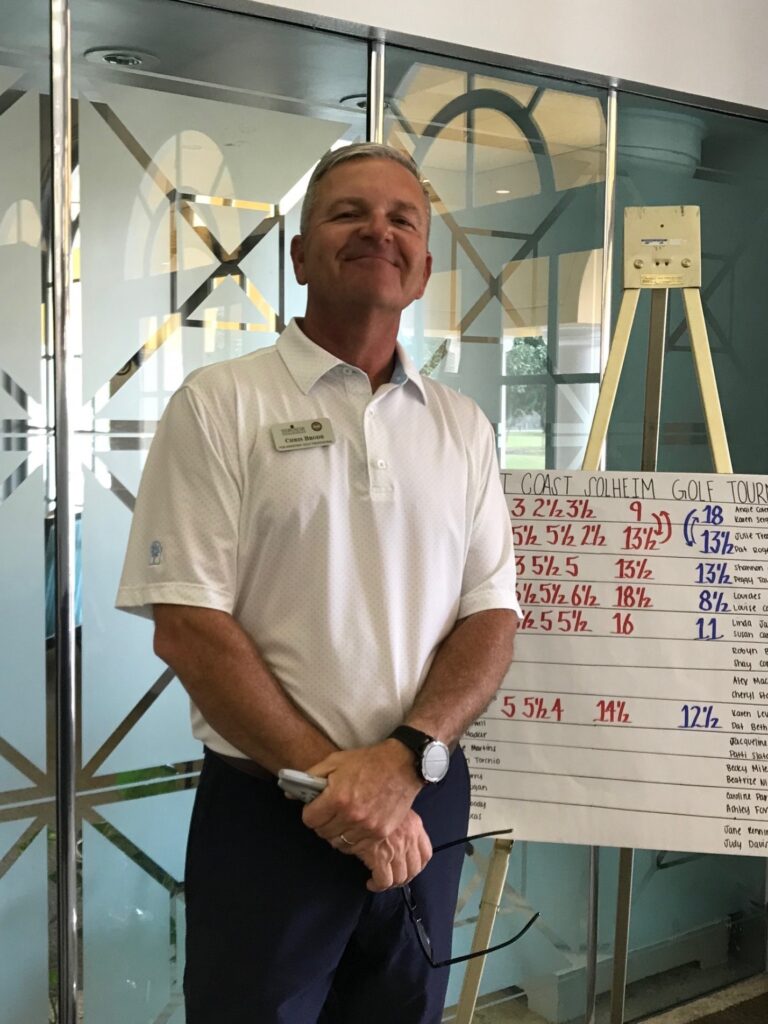 We had a delightful lunch of a nice salad greens, roasted vegetables, chicken, polenta and broccoli rabe and baked salmon along with a great grilled pound cake desert. Was delicious! And thanks to Jason Geilbert the Dining room Manager.
We do not have a March event – we were unable to schedule a Brassies event.
The next one is the Championship tournament at East Lake Woodlands on April 3 – 4 – more details to come.