It is always a treat when West Coast plays the Quarry Course at Black Diamond Ranch, and Monday October 16th was no exception. The cooler fall weather came in and it was spectacular. Golf Digest has had it listed in the Top 100 courses you can play for over 20 years.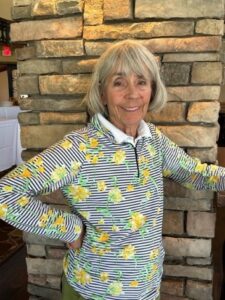 Long time veteran West Coast Rep, Kooky Lucas hosted the event and delivered a fun day of golf as well as a delicious buffet lunch. It included home made tomato soup, grilled cheese sandwiches, chicken salad, tuna salad croissants and a delightful assortment of deserts. Saw a couple people go back for seconds on the key lime pie 😊.
Kooky also appreciated the help from Linda Pratt and Debbie White with check in.
Our thanks to the Black Diamond team of Dave McQuade, Director of Golf, Ben Noland Golf Course Superintendent, Executive Chef Javier Mendez, Stacie Hein – Dining Room Manager and Chris Major – General Manager.
We had 47 players including 13 Guests. A special welcome to the guests: Sun Hong, Fran Yacko, Dotty Metcalf, and Bibi Janaes from East Lake Woodlands (now Ardea CC 😊), Julie Arrovo – Southern Hills, Cathy Tintera – Rocky Point, Susie Williams and Marisa Driscoll from Carrollwood, Dale Kramer – Innisbrook, Sherry Shapero – Hunters Green and Amy Neeb, Paula Doherty, and Sandy Anthony from the Vinoy.
Becky Miles and Kathy Conroy, our heart attack survivors shared their stories – and reminded all of us – DON'T IGNOR WARNING SIGNS, if you don't feel good get it checked out. Kathy urged to keep an adult aspirin with you.
On course games were Birdies and Chip Ins with lots of winners!
Birdie Winners were:
Two Birdies – Julie Treadwell
One Each:
Cheryl Stryker, Linda Pratt, Lisa Rosenbaum, Soozie Kaiser, Jane Kienle, Charlene Liu, Lourdes Sanchez
Kathy Conroy
Sherry Shapiro
Guests: Bibi Janaes and Marisa Driscoll
Chip In Winners were:
Shay Comer
Mary Luccia
Marisa Driscoll (Guest)
Julie Treadwell
Jane Kienle
Chalene Liu
Flight Winners Were:
AA Flight Winners:
1st Gross: Kiely Allen – Gross 76
1st Net: Sara Tasnady – Net 75
A Flight Winners:
1st: Terry Moreno – 85
2nd: Cheryl Stokes – 87
3rd : Anne Stafford – 88
4th : Shay Comer – 90
B Flight Winners:
1st : Tie: Jane Kienle and Lisa Rosenbaum – 87
2nd: Vicki Stafford – 93
Flight C Winners:
1st : Soozi Kaiser – 89
2nd: Mary Luccia – 91
3rd : Song Buchanan – 92
Flight D Winners:
1st: Linda Pratt – 92
2nd: Skipper Singer – 97
Guests:
1st: Dale Kramer – Net 73
2nd: Bibi Janaes – Net 75
3rd : Amy Neeb – Net 78
Can't beat this for a par 3 – No. 13 on the Quarry.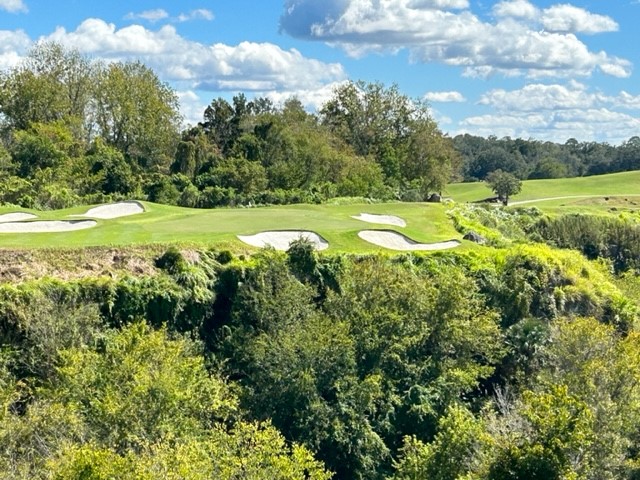 Closest to the Pins:
AA & A – Hole 17 – Lourdes Sanches 3 ½ INCHES! Yeah Lourdes! (We really wanted the hole in one and for you to buy drinks 😊)
B – Hole 13 – Jane Kienle 10'
C – Hole 8 – Mary Luccia – 17' 3"
Guests & D Flight – Fran Yacko – 7' 8"
Most of us did pretty well on pace of play at 4 hours and about 10 to 20 minutes despite having to walk from the rough to the ball due to overseeding – but we did have a group come in at 5 hours – which was too long. Please remember to reinforce the speed of play within your groups.