West Coast was delighted to play the newly renovated Donald Ross Belleair Country Club West Course on November 13th . The course was returned the to its original playing conditions complete with water views on almost all holes and Cop Mounds (upside down bunkers!).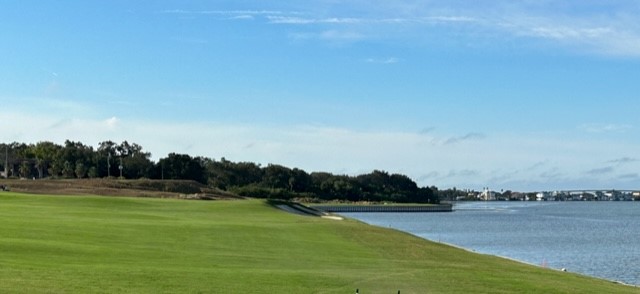 Thank you to club rep Dianne DeNuccio and Anne Pace for hosting the well attended event with 63 players including six new members.  The day was windy, and the course was challenging, including undulating fast greens, many a ball found the water on the par three hole 7.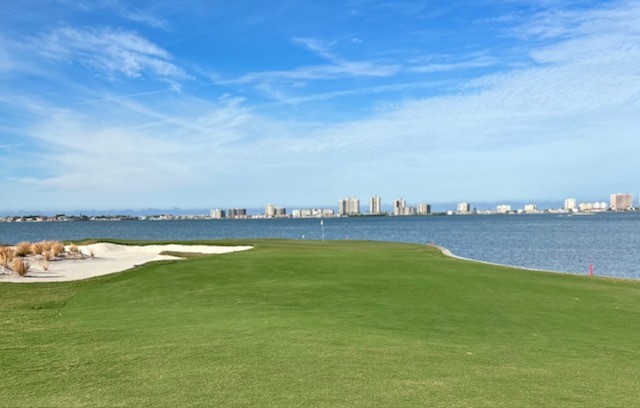 A special thanks to the General Manager Edward Shaughnessy, Director of Golf Jim Slattery and his team who were on top of everything. A delightful lunch was served thanks to Ex. Chef Paul Liptak and Banquet Coordinator Joanne Walker.
Closest to the Pin Winners!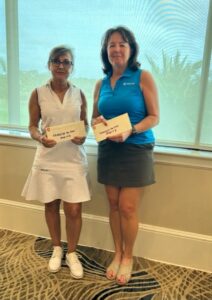 Hole #7: AA & A Flight – Alex Maciag
Hole #4: B, C & D Flights – Beatriz Niemeyer
On course games of Birdies and Sandies generated a huge number of winners!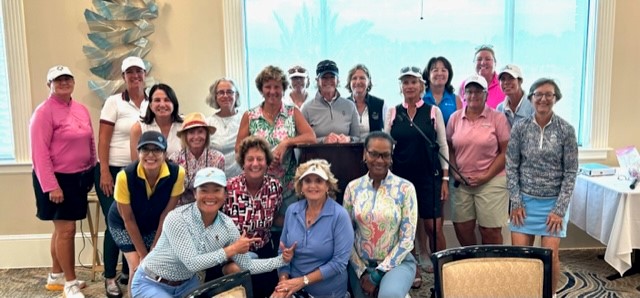 22 Ladies had Birdies! This is some good golf 😊.
Karen Lesch – 1, 4, 17
Keily Allen – 2,4, 15
Maggie Liu – 4, 6, 13
Suzie McRae – 4, 6
Laura Leszczynski – 2, 16
And the following had one birdie each:
Jackie Brown, Allie Cantonis, Julie Treadwell, Alex Maciag, Paula Clair Smith, Lisa Rosenbaum, Rusty Murphy, Donna Arcudi, Karen Levine, Ginny Miller, Louise Matthews, Dianne DeNuccio, Julia McGinty, Bridget Gruman, Ann Brownfield, Angie Coleman, and Mary Ann Torchio.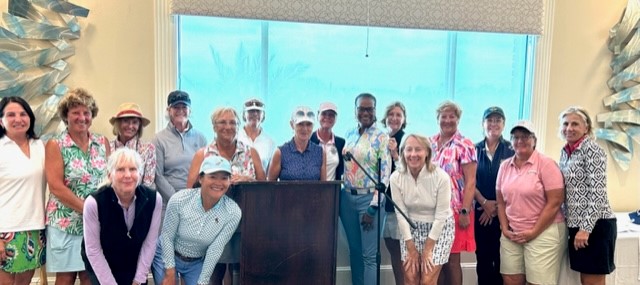 Sandie Winners (up and down for par) was impressive as the bunkers were so deep I couldn't see over the top of most. Winners included:
Cathy Moss – 10 & 4
Carol Paprocki – 1 & 10
Karlene Trosper – 3 & 15
Mary Ann Torchio – 10 & 16
One each:
Julie Treadwell, Beverly Russell, Linda Pratt, Allie Cantonis, Paula Clair Smith, Brenda Bartley, Angie Coleman, Rusty Murphy, Louise Matthews, Ginny Miller, Maggie Liu and Julie Hoofnagle.
Our Flight Winners were: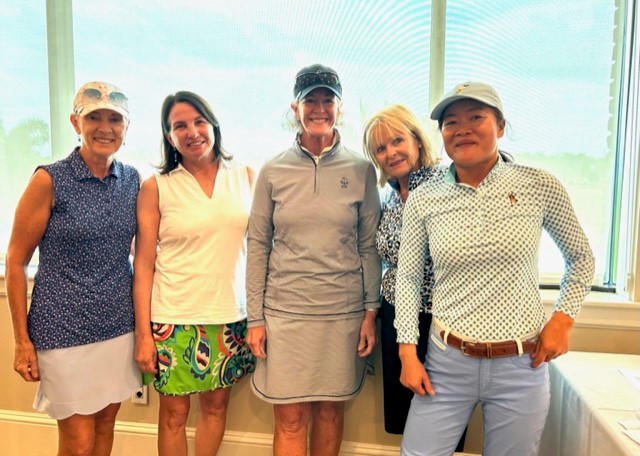 AA Flight Winners (Gross)
1st : Maggie Liu – 75 (Maggie has too much local knowledge 😊)
2nd Tie – Karen Lesch & Angie Coleman – 82
3rd: Laura Leszczynski – 83
4th: Ann Brownfield – 85
5th:  Julie Treadwell – 86
A Flight Winners:
1st: Allie Cantonis – 85
2nd: Diane DeNuccio – 86
3rd Tie: Lourdes Sanchez & Paula Clair Smith – 88
4th: Alex Maciag – 89
5th Tie: Louise Matthews, Sarah Cappelli and Cathy Moss – 92 
B Flight Winners:
1st: Mary Anne Torchio – 81 – great playing Mary Anne!
2nd: Donna Arcudi – 88
3rd: Vanitha Walker – 92
4th Tie:  Karlene Trosper & Kathy Conroy – 94
Flight C Winners:
1st: Beverly Russell – 94
2nd Tie: Carol Paprocki & Ginny Miller – 95
3rd: Dianne Roberts – 96
4th: Pat Takacs – 98
5th:  Jackie Mitchell – 102
Flight D Winner:
1st: Nola Raitz – 98
2nd: Linda Pratt – 100
3rd : Janet Kolb-Patton – 102